Every branch is locally owned and operated, with full support from Laser national management. Whether we're working for a residential builder, commercial and industrial customers or home owners, we strive to meet and exceed our customers' expectations everytime!
Local branches, national coverage
Expert help when you need it
Laser Plumbing offer a nationwide network of highly qualified, experienced plumbers who can assist in the following areas: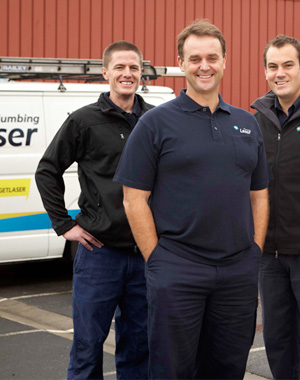 Our award winning systems have proven our members can provide professional and reliable service in the plumbing and electrical industries.

Our members will provide you with friendly, professional and knowledgeable service.
For more information, find your nearest local Laser Plumbing Member.
---
Our Story
In 1983, Peter Bassett and David Clemmett, two entrepreneurial electricians, decided to set up their own electrical contracting company, called Laser Electrical Ltd. The business grew rapidly with a strong focus being placed on outstanding customer service and implementing strong business systems.
In 1999, the Laser business model was developed and licensed. In 2003 it became a full membership business model.
In 2004, Laser expanded its operations into Australia. Due to a company culture that recognises innovation, Laser Plumbing was initiated in 2006, which utilises the same award winning systems and processes Laser was built upon in both the Australian and New Zealand market.
Laser Plumbing and Electrical currently has over 250 members and has evolved to become the leading electrical and plumbing contracting network across Australia and New Zealand. Based on the vision of becoming the leading provider of Plumbing and Electrical Services, utilising Laser's leading process control systems and recognising the demand in the market for a national supplier, our Member businesses are all enjoying all the benefits that come as part of the multi award winning Laser business system.
---