As seen in The Gippsland Times, August 1, 2017
A SALE plumber helped raise money for mental health organisation Beyond Blue.
Recently, Laser Electrical and Plumbing staff from Australia and New Zealand handed a cheque for $132,253 to Beyondblue deputy chief executive Susan Anderson. The money was raised as part of the Monkey off Your Back Ride, which saw Laser staff, including Sale plumber Mal Duncan, ride from Melbourne to Cairns.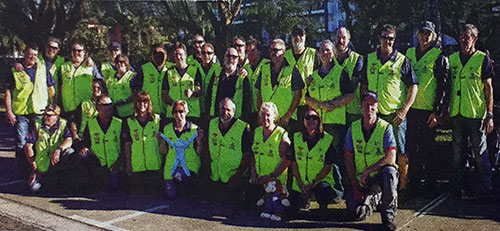 Laser Plumbing and Electrical riders, including local Mal Duncan, arrive in Cairns.
Laser members held events throughout the country including golfing days and apprentices shaving off their hair, to raise money for Beyondblue. For Beyondblue, $132,253 equates to 4408 information packs, printed, packaged and posted to educate about depression, anxiety and staying well, or, 132 support co-ordinators trained to help those who have attempted suicide.
It also equates to 2755 calls to the Beyondblue support service or enables 1202 Beyondblue speakers and ambassadors share their story with the community. "We want to do our bit in improving the statistics around mental health of people in the construction industry," Mr Duncan said. "We also recognise the importance of encouraging people to talk about how they are feeling and know that sometimes we need help in this area.
"Through Laser Plumbing and Electrical we have been able to work together with other members in raising funds and increasing awareness and this is something we are proud to have been able to contribute to."
"As important as the work of Beyondblue is, just as important is creating an envi-ronment within our team that encourages our staff to talk to each other. "The most important outcome of the Monkey off Your Back ride has been the camaraderie built between the riders and that during the ride, we get men talking, something which we know men don't do enough."
---